I don't care what
vicus
anyone says, Christmas is a time for us to revel in the warmth of family, of friends near and far, and to overindulge in goodies. After all, The New Year's Resolution Revelry will soon begin and you can start to take off that extra baggage that you put on during the holidays. It's a vicious cycle, but one most Homo Sapiens adhere to year after year.
So in honor of the season, I baked some custard tonight. In the oven. Yes, me. I did it. Stop looking at me like I'm off my nut. I can bake custard if I want to and I wanted to so I did. I haven't had any like this since I was a little girl and watched my mother wrestle the water filled pan in and out of the oven. It turned out well, even if my younger daughters didn't like it. What do they know about hardening their arteries? Nothing, that's what.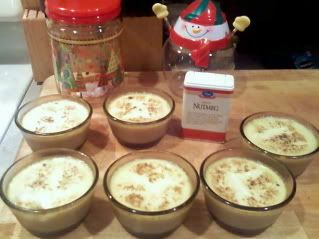 I've also made a double batch of Spritz cookies, the kind you make with a cookie gun, a single batch of Russian Teacakes and a double batch of sugar cookie dough that is now waiting for me to roll it out and cut out tree shapes, angels, snowmen and the odd cactus. My in-laws live in Las Vegas, so I make them cactus shaped ones every year.
And now, off to the flour mines. Oh, and Vicus dear? I did get what you were refering to earlier. Honest. My brain isn't
entirely
gone to mush. Close, but it's not a total loss. Not yet.