Mmmmmm. I found a great recipe for cookies that are brownie like. I made them this evening for the children's lunches and hubby's as well.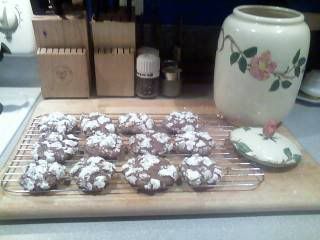 Really odd to make in that you cover them with powdered sugar before you bake them. Ashley helped for a few minutes and then didn't enjoy the sticky fingers she got so she quit.
I've been thinking about how much more time we're spending without the televison on all the time. It's been fun to sit and listen to hubby and son jam on their guitars. While dinner was simmering this evening, Lance and I sat and talked about how grateful we are for our children. I told him that I watched young mothers carrying their babies, dragging their toddlers all into the gym this morning and I heaved a sigh of relief that I'm beyond that stage of motherhood.
Lance and I agreed that we wouldn't have traded any of it for one second. We had some difficult times, some heartwrenching times and had some severely ill little ones but we agreed. We would not have given up one minute of it. It was a gift.
It still is, it's just a different gift, different challenges and ways to grow.
And lot's more cookies to discover!