And tomorrow will be day three, and then there is the three day weekend.
As you can see in this photo taken today, our entire neighborhood was out foraging in the icy snow for food.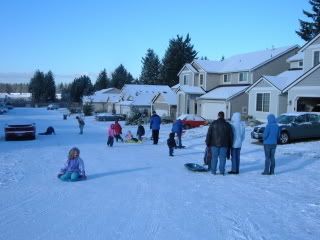 It's been brutal people. Simply brutal. Hubby never made it to work and is currently gone fetal under the blankets upstairs in bed.
I tell ya, if we survive it will be a miracle. Please send food and supplies via hunky-air force guy plane drops as soon as possible.
Think of the children. Please.