No, they don't involve sacrificing virgins to Mt. Rainier, nor biting heads off of tiny reptiles. It's my annual DEATH TO SOCKS DAY.
Not all socks, mind you. Simply the ones that have tormented me during the course of the past year by never, ever finding a mate. They are mateless. Mismatched. Alone. Single. And it's true, one
is
the lonliest number. It's also the number that gets you tossed into the trash.
I don't know about you, but socks are the bane of my existence. I have had, at times over the years, boxes of mismatched socks, baskets of them, runaway socks hidden under my bed, stuck inside bedsheets. At one point I have about twenty PINK socks, in all shades of pink, in all sizes and
not one of them matched
. This is when I went for better living through pharmaceuticals. It's helped with that whole eye tic thing, but I've still got other physical manifestations of a nervous condition that I won't go into here on this blog.
Today was the day that this entire pile....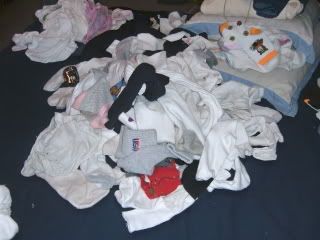 Was tossed into the garbage here.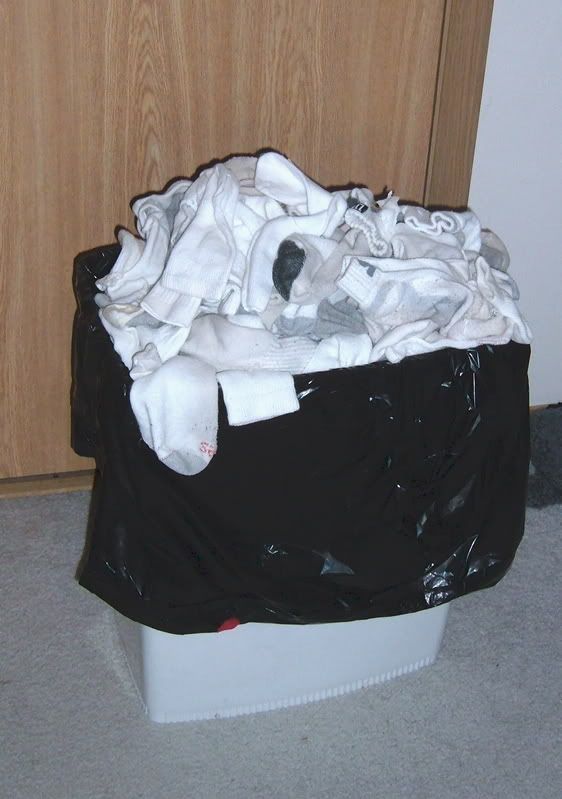 This is an example of just
why
this must be done. For my sanity. For the children. For puppies and kittens and butterflies. So I don't go postal or start wearing my bathrobe in public and neglecting my personal hygiene.
See these two socks?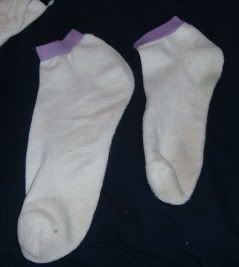 I got that little thrill of victory when I discovered them. Two socks with purple bands around them! A match! Surely, for all that's holy, a real match!!
But no. As you can see, they are different sizes. I do not even recall ever buying these socks, much less shrinking one.
So, with my New Year's Ritual out of the way, I can proceed to the next ritual.
Buying more socks. ::sigh::