Even most of the human ones, although for the purposes of this blog post, I am referring to actual animals.
Like my doggie Cassie. She's a sweet soul, wouldn't harm anyone but would perhaps lick you to death should you break into our home to steal our valuables. She's about five years old, a lab and hound mix. This morning she came up to me with her rawhide bone and wanted to play
Gimme Dat Bone!
. She faux growls at us as we try to get the bone from her. We chase her around the house and if we manage to get the bone, we toss it and she races off after it.
Here she is wanting to play...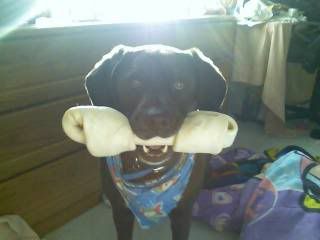 Another game she was playing with me this morning was
Please Put Me Out Before I Puke On Your Carpeting Again
. I seem to have won that round at least. Sadly, I've lost most others.
Ah yes, the joys of pet ownership.