Since it's Saturday, I've been singing a song to the girls (the older two are up in Seattle spending the weekend with friends).
Saturday is a special day, it's the day we get ready for Sunday...we clean the house and we shop at the store....
So in preparation for scouring and cleaning, Ashley attached several bottles of Febreeze to the pockets of her jeans so she would look the part. I'm not entirely certain just how much cleaning she's got done, but she certainly looks cute standing in the master bathroom, ready to work.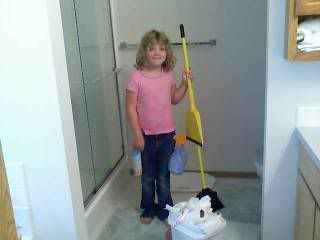 I'm writing and cleaning. I spend half an hour working on my book, half an hour cleaning. It's working so far.
Thursday I spent five hours at the Thurston County Sheriff's office poring over boxes and notebooks and photos of the crime I'm writing about. I found out more than I ever wanted to know about evil and barbarity in a monster's heart. I've lived in compartive innocence regarding the depravity of the criminal mind.
So, while I clean today and prepare my home for the Sabbath, I will try to cleanse myself of the darkness as well in order to enjoy the sweet uplift of spirit that the sabbath brings me.