All day I thought it was Friday. Not quite sure why. Daycare Mommy came back from her California jaunt so I spent the day in Steilacoom with five kids. The fun never ends.
Did I mention that number one son has started Drivers Ed? Someone shoot me.
Today on the way home, the girls did what they always do. I told them I wanted the airconditioning on, but they prefer to open the windows and let the wind blow through their hair. Ashley stuck her head out the window. Here she is...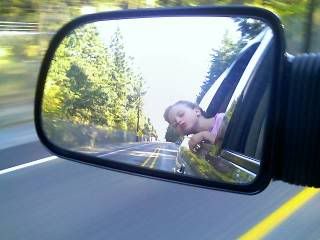 Tomorrow is hubby's birthday. He's turnng a whopping 43. He doesn't know it but I've got a massage therapist coming over for him tomorrow night. He's going to love it.
Update: My heart hurts tonight. It's just heavy.... Earlier I showed the kids all the rear window pictures and Ashley saw hers here and was upset. I asked her what was wrong.
"You can see righty in that picture" she frowned
Righty is what she calls her right hand. The one damaged by her stroke.
I comforted her, snuggled her, as we were on my bed and I held up righty and kissed it. I asked her why that was a problem. She said she hated people staring at her, looking at it.
"I hate it!"
I kissed righty again and told her she should never ever be ashamed of any part of her body. That she was just perfect, that she's beautiful and she's smart and best of all, she's got a gentle and a kind heart that knows her Heavenly Father.
So we continued to hold onto each other and I smoothed her curly blond hair back from her face and I tried to pour my love out onto her through our closeness, through our touch. There's something beyond precious...beyond words that passes between a mother and her child. I don't have the capacity to fully express how I feel about this child of mine. I wish I could take her pain. I'd take her damaged right side and give her my healthy right side in a heartbeat if that were allowed.
It's not. I know she has to learn and to grow and her challenges are what will make her the person she is supposed to become.
It just hurts my heart sometimes...