I've speculated in previous posts about how the males of our species may get larger in body size, but remain little boys to the bitter end.
Hubby calls his injury a 'motorcycle accident'. I suppose that's more manly than saying he simply got it caught in the chain of the motorcycle as he was trying to get the bike out of the back of the truck.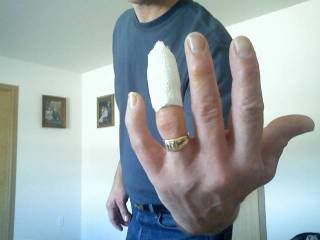 This morning when he woke up and I saw his finger all swollen and red (mind you, he injured the finger August 16 and it's now the 27) I told him he was going to the doctor.
"They're closed today"
"Then we can go to the Urgent Care"
"That costs more money"
"So take tomorrow off and go to the Doctor"
"I don't want to use my sick time"
"So, your money or your finger.....your choice"
"Let me think about it."
He went, poor thing. He had to have a nerve block and then the doc sliced him open to remove pus and other assorted icky fluids that had collected in the swollen digit. Then he was stitched back up.
Boyz are boyz are boyz are boyz...