We were invited to a barbecue at SIL's (Kathy's) house this afternoon. So I've made a big potato salad and then baked some snickerdoodles. Ashley was creating a book of her drawings for Grandpa Doug and then discovered that I was
baking
. I'm not allowed to do that alone. So she had to help. The dog had lots to lick up off the floor when she was done.
Here she is rolling an enormous snickerdoodle. I somehow managed to disuade her from attempting to bake one that large. She made it over into several smaller ones instead.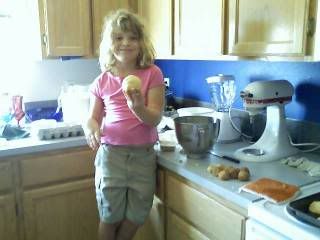 Chris is arriving home this evening from his white water rafting trip, so we've decided that I will be here to pick him up instead of going to the barbecue. He's been gone all week and I don't want my boy coming home to an empty house. Ally is still up at my sister's house. I tried to get her to come home yesterday, but she didn't want to come back.
On the plus side, this has saved us in groceries.
And for those of you reading along, another chapter is up on my forum.