I haven't been feeling very good the past couple of days. So this morning, my resident Chef Allison, with her two apprentices, Ashley and Nicole, made me breakfast in bed.
Here they are with the meal.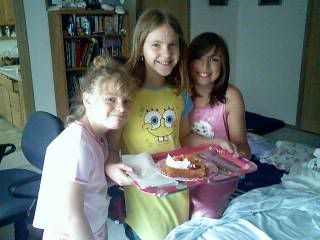 The meal consists of scrambled eggs dyed pink. Ok, they said it was pink, but I'd say it's more of a gray. ::shudder:: Two slices of french toast, covered in cool whip and maraschino cherries and a big glass of milk.
I don't drink milk.
Here's a picture of the food.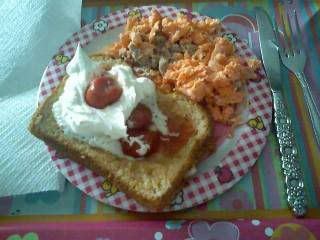 In the picture, taken in our bedroom, you can see blankets and pillows on the floor. This is due to the fact that everyone in the house sleeps on the floor in our bedroom at night because it's too hot to sleep anywhere else in the house. It's been like one big slumber party all summer long! Wheee! Ok, not really wheeee. More like, oh-no-here-they-come-again. Ah well, the cooler weather should be coming soon, right?
They are very sweet to have done this, though. I'm just afraid to go downstairs and see what my kitchen looks like now.
Update: Yes, the kitchen is as I had imagined it. Ah well. No worries. We went to the library for awhile, then to the grocery store and now we're heading off to go blackberry picking for pies tonight. Lance will be so excited!
Here is niece Nicole at the window behind me