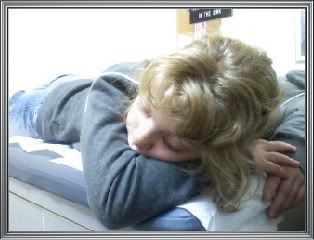 Ashley rested on the examining table today at the pediatrician's. We were trying to find out if her seizure med levels were in acceptable limits or were they out of whack and causing her headaches and bouts of dizzy-whirly-fun.
So far so good. They think it might just be a virus.
I was happy with that. A virus is fine with me. A virus doesn't cause permanent harm. I'm good with that. Very good. Yay virus!
And now, to fall into bed. Another long day. When I got home this evening around 9 my father said, "Do you ever stop?"
Sorry, no. I'm the energizer mommy...I keep going and going and going and going and going.. and well, you get the picture.
G'night.