As today is the first of December, it was only fitting that I saw the man in red.
Most of the year his name is Wayne, but during the month of December he transforms himself into Santa Claus. I don't know if you can see it here, but he's holding a beautiful American flag in his hands.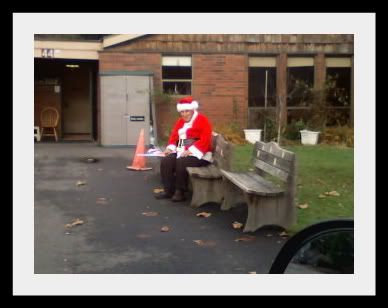 Wayne usually shuffles around wearing a suit coat, pants, shirt and tie. Always a tie. Wayne has oodles of ties. If Wayne spies you wearing a tie, he will ask you for it, in the the nicest possible way. Often times those that are asked for their ties, hand them over unless their tie holds sentimental value for them. If that's the case. the next time they are there they'll bring an extra tie just for Wayne.
Wayne has boxes of ties. More than he could ever use probably.
Wayne is a special person. As long as I can remember he's lived at Fircrest. A place for special people like him, and like my sister Cheri and many, many other unique and wonderful people. Most of them are happy. Continually so. Without rhyme or reason, they are happy. Wayne is such a person. He'll make faces at you, he'll talk about
Che-reeeee
as he calls her. If you're lucky he'll flip his dentures at you. Then you know he's
really
giddy.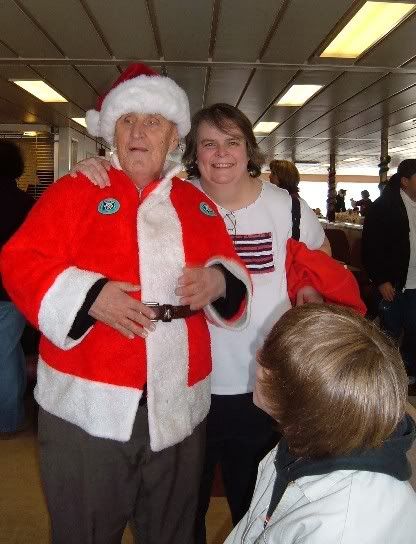 Each December there is a Special People's cruise ship that goes out into Puget Sound. Each year, Wayne wears his Santa suit, because it's December of course. He's a happy, jolly man.
There should be more Wayne's in the world.