Ah yes, never a dull moment around here. School, with good reason was closed. The snow that was promised yesterday and never arrived, arrived today. The front yard and pond was dusted and then more.....covered.
We finally got the Christmas tree up!
Lance and I went to Northgate to do a wee bit'o' Christmas shopping and while we were there we got a phone call from our son. At first I thought he was crying then I realized he was laughing so hard he could hardly talk.
Seems papa got hissef locked in dat dere batroom.
He was trapped in there for forty-five minutes. We offered him food and water and blankets but he refused. He had some books so he was good. Finally we got the door opened and the prisoner went free.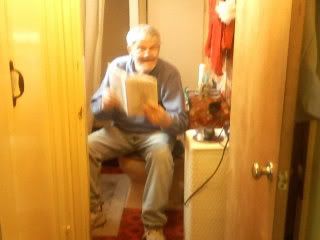 Later we went to pick up Steph from her job at See's Candies and then drove to Mercer Island to drop Chris off with his pal Amir for the night.
We had gyros for dinner and brought one home to Papa. Then Lance and I walked the dogs in the snow. Brrrrrrrr.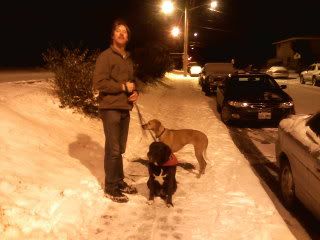 When we got home we were so cold we couldn't feel our toes or fingers so we decided that hot chocolate was in order. Lance made it, then decided to take a quick detour to the bathroom. He neglected to remember that The Bathroom has decided to Take Prisoners and lo, he was captured and held hostage.
Papa tried to set him free to no avail.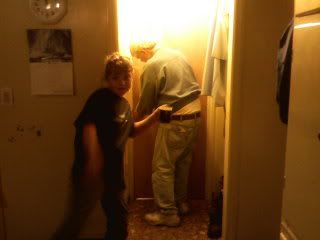 I passed him his hot chocolate through the window to help him pass the time.
Ashley comforted her POW father through the door of his prison while the rest of the family rolled around on the kitchen floor laughing ourselves into a coma. Why yes, we are easily amused, thanks for asking
Finally he was set free.
I do believe that we will now be allowed to replace the door knob with one that won't lock us inside the bathroom. Progress!