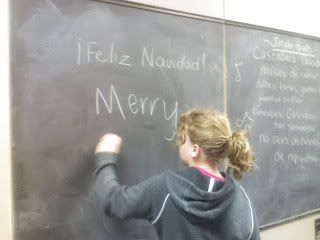 I teach a few early morning Spanish classes and my assistant is Wee One. She's such a good helper and in the process she's bettering her Spanish. Bonus! This morning she decided to write on my blackboard.
I had to pick her up early from school today and then spent some time on the phone with the pediatrician, and then her Neurologists office at Children's. This dizzy thing just isn't going away and it's got me concerned.
My assistant needs to be in top form!