It's been raining here. A lot. We'd have beaten our previous record if Mother Nature hadn't decided to take one day off from giving us measureable rainfull. We were concerned because we saw this big yellow orb in the sky and we weren't sure what it was or if it was dangerous. Just to be on the safe side, most of us stayed inside just in case.
The following day the deluge began again and we all felt
waterlogged
safe once more.
Everything was going swimmingly (get it? Ha! Swimmingly? Rain? Ha! I crack myself up) until my sister invited the God's of Vehicle Breakdowns to visit me. She knew better than to ask me how my car was running. She
spefically
asked me if everything was functioning. She did so within earshot of my vehicle. Not two seconds later my drivers side window went down and refused to come back up again.
Did I mention that it was pouring out? Did I also mention that I had to drive an hour and a half to get back home? No? Well, it was and I did. My sister had a roll of semi-clear plastic wrap stuff and duct tape in designer colors so we could at least make it so I wasn't drowned on the drive home.
As I drove I found out some interesting things. Covering your drivers side window in saran wrap-like stuff and secruing it with green and blue duct tape makes for a very loud drive. Also, the wind tolerance of said covering is approximately 35 mph, give or take 5 mph.
I also found out that I wasn't above Window Envy. Everyone passing me had real glass windows on their vehicles. I was jealous. On the plus side, I was dry during my 35 mph drive home.
Here's what my window looked like. A big thanks to my neices, Jessica and Nicole for taping the bejeebers out of the thing.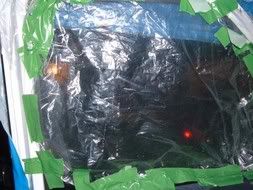 And no, I couldn't see out of the plastic window, thankyouverymuch.