We have discoverd the face of terrorism and it is us. Me. I mean my blond, blue-eyed six year old. The dangerous one. She has many weapons in her arsenal and you just never know when she may decide tip the balance of power in her favor during a flight and hijack us all to Disneyland.
As a family we travel to Las Vegas on a yearly basis. We go there for the
loose slots, comped drinks, wild dance parties
sun. Hubby's parents live there and they bring us down to visit each summer. We call it our Club Himka, complete with enormous outdoor pool, exceptinoal culinary experiences and chocolates left on our pillows. My in-laws are wonderful people.
Since driving to Las Vegas in a car with four children would make good fodder for the next Chainsaw Massacre movie, we prefer to fly instead. So fly we did. But before we could fly, we had to run the Security Gauntlet. This is where complete strangers have the legal right to make you disrobe so they can grope you. I'm sure there are those of you out there that have paid for this kind of personal service, but for sheltered housewives such as myself, it can be a bit disconcerting. Especially when they cut your children from the herd.
My baby girl wears a DAFO (an articulated brace) on her right foot and leg to help her walk because she has CP. I'll be the first to admit she's dangerous, but how did security know? It must be their crack training and animal instincts. Ashley was pulled aside at the security checkpoint by the guards there. They made her stand in a plexi-glass surrounded annex. I went to go to her and the uniformed guard came after me. I was trying to put my shoes back on so I wasn't moving very fast but you'd have thought I was sprinting.
Security: "Stop!"
Me: (looking around) "Me?"
Security: "Yes, you! Don't touch that child!"
Me: (Looking a bit bewildered) "What did she do?"
Security: "Nothing. We just need to wipe her down to see if she has any
explosive residue on her"
Me: "Well of course you do, I mean look at her. I bet her brace is loaded
with C-4. She's six years old for crying out loud!" I moved towards
my little girl who was looking a bit scared by then.
Security: "Ma'am, DO NOT TOUCH HER. "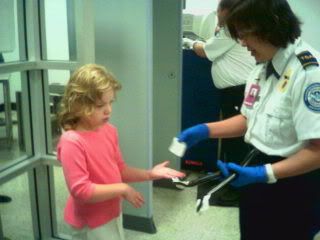 At this point they got the special cloths to wipe down
this obviously dangerous terrorist
my little girls hands, legs and feet to check to see if she'd been handling explosives recently.
Thankfully it came away clean. All our parental admonitions to always wear gloves while handling explosives must have paid off. I was so proud.