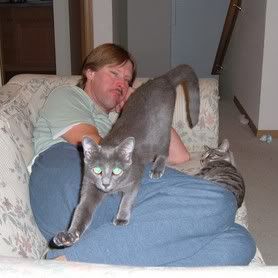 My husband and the cats. Although he looks incredibly comfortable on the couch, he's not. The couch has seen better days. Those days were waaaaaay before it came to be in our possesion. You see this couch came from Auntibell. Her name was Maribell and she was/is my husband's aunt. We lost her to breast cancer several years ago. This little love seat was part of her living room in a FAB house on Mercer Island over looking Lake Washington.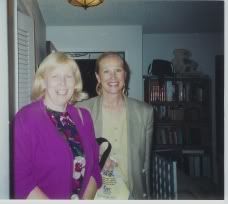 On the left is Maribell and to her right is my mother in law Bonnie. (An amazingling wonderful woman that I adore!). At the time this picture was taken, Maribell was already quite ill. She knew the cancer had spread but I never heard a complaint from her.
As her disease progressed she told all the women in the family that she wanted to leave us something to remember her by when she was gone. She set us up to go to a jewelry designer to create our own individual piece. Some chose to have earings or necklaces made.
I chose a ring. It's a heavy band of gold, with a peach topaz (my birthstone) in the center with four diamonds on each side in a column. It's truly one of a kind and each time I look at it I see Maribell and recall her kindness, her generosity and her spirit. I'll show the ring here another time.