I decided that dinner this evening would be barbecued hamburgers with homemade French Fries. I hadn't made fries in a long time and thought it would be
an extremely healthy and low chloesteral
delicious addition to our meal. I started heating up some oil mixed with Thai peanut sauce. Hubby told me not to use it in the oil. Ha. Who's the cook around here buddy?
So, I went to begin peeling the potatoes. I can peel five lbs. of tubers in record time. I'm tater peeling pro. Then my youngest wanted to help. She wanted to peel the potatoes.
So I let her try. It wasn't easy, since her right hand doesn't work very well. At seven years old, she has learned to compensate for her physical limitations quite well but there are still many challenges ahead of her to work through. I just didn't realize that peeling potatoes would be one of them.

We worked out a plan. I would hold the potato and she would peel it. I would turn the potato when she told me to and in that manner we managed to peel quite a few tasty tubers.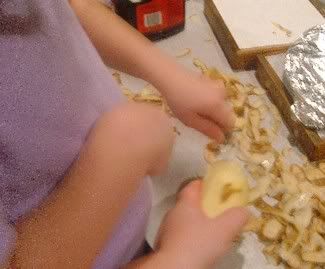 When she finished one, she held it up as her trophy. I swear she was smiling right before this picture was taken. However, her serious demeanor does impart a kind of solemnity to this important occasion. Her very first peeled potato. It may have taken longer, but it was more than worth the time and the slight nicks I received when she became over zealous with the peeler.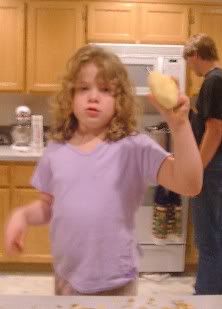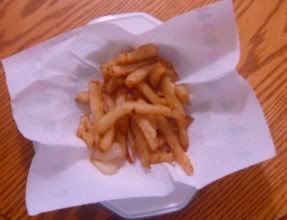 And then there were fries. And the fries were good.