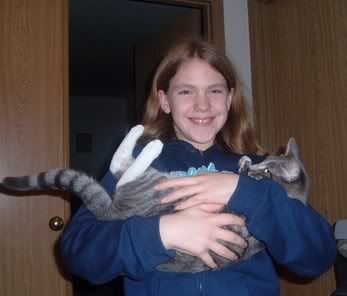 This is my beautiful nine year old. Generally she's a quiet, reticent child. I say usually, because there are times when she surpirses me.
Yesterday she was holding our cat, whose name is Dakota. She whipped him around so his butt was in my face and said,
"BEHOLD SOUTH DAKOTA!
I started laughing. Then she said,
"It stinks in South Dakota and that's why nobody wants to live there!"
So, as far as funny things go, it ranked high on my scale of hilarity yesterday. I just thought you all needed to know that.