Last night, after my wonderful hubby helped a family in our ward move, and after he'd worked hard all day at some wonderful people's house, we took the girls to a Halloween outdoor thingy.
Don't you love it when I talk technical? Yes,
thingie
. And yes, I'm a writer. Or something like that.
There was this free halloween party thingie at
Hamlin Park
for the kids. They had hayrides, games, apple cider, ghost stories, marshmallow roasting and face painting.
Ash thought it was great fun and got her face painted.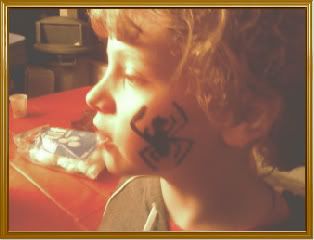 Allison, being older and wiser, was not as impressed. In her defense, it
was
geared more towards the younger set, but still. It was fun. I did force her to stand still next to some blow up pumpkins for a picture. Again, my aplogies for the horrendous pictures. I only have my cell phone camera to work with.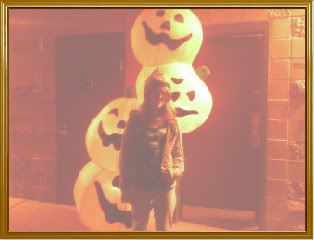 So, with candy in hand we went back home to inflict more dental damage on ourselves. Well, on the kids. They weren't sharing their loot.