Here are more pictures of the wedding on Saturday. Here is hubby's Dad, Doug. Can you guess what song everyone was dancing to? It was seriously hilarious to watch everyone cutting loose.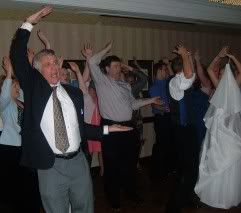 Here is one of the groom's parents. Does anyone think this woman looks remotely old enough to have a son getting married?

Here are the grandparents of the groom. Does anyone think that they look old enough to have a
grandson
getting married?? No, me either.
And no wedding is complete without an enormous buffet.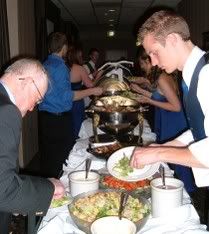 And here's my number one son. Anyone think the boy could use a hair cut? Yes? Well, please tell him that.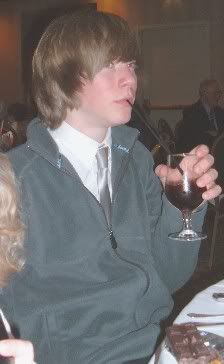 Here is Kathy, mother of the groom, her aunt Janet, aunt Pat and Janet's daughter Keetah in the wheelchair. Wish I had a picture of
them
doing the YMCA! It was hilarious!