First I wished for snow and we were innundated with the white stuff. It was horrible. Then I wished for it to rain and this is what is happening here now...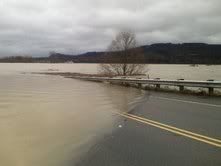 My friend has now informed me that I should use my powers for good and
not
for evil.
Who knew?
After we dropped the kids off at school this morning, Lance and I went to take some pictures of the flood. Horrible, awful and all kinds of bad.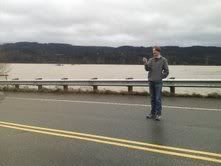 That's not a lake behind Lance. Well, I mean it is
now
, but it's not supposed to be a lake.
We came across a car in the middle of a flooded road. It's lights were on and we couldn't get close enough to see if there was someone in the car. We didn't have any cell reception where we were so we left to see if we could get help and as we were leaving the police came.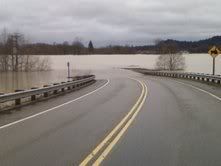 The road is just...gone.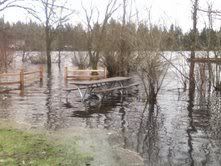 Picnic table under water at Cottage Lake
We drove through some high water on a few roads but nothing that would have put us in danger. We know better.
Well, for the most part.