Yesterday my nephew Chad stopped by the house for a visit. I found him and his girlfriend in the living room with my father.
Chad is the fourth of the five children my brother had. He was once this tiny little baby boy who crawled into the trunk of my hubby's porsche and said he'd ride in there because he
so
wanted to be with us. He could have ridden in the backseat only there wasn't a backseat in the car. It was a two seater and we were dating and oh....where did that time go?
..pulls myself back from the way-back-time-machine before I get lost...
At any rate, Chad stopped by. He's shorter than my boy now. More pierced and tatooed. He's taken a different path than the one that was laid before him as a boy. It's stunning to me how the choices of the parents create such an impact on the children. Despite that though, children have their own free agency and make their own choices about things after awhile and the line between what happened due to poor parental decisions and what roads were taken because that's just the way things are....is blurred.
Here's Chad and The Boy.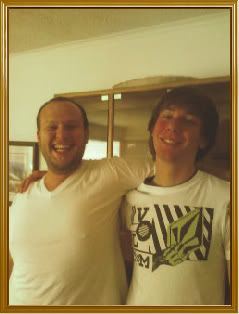 As we sat there talking and laughing, it became a kind one-liner contest and we were all laughing fairly hard until we began talking about things closer to our hearts and painful memories of times when Chad was growing up. When Papa thought Chad was nearing tears he changed the subject and we talked of less important and less emotionally intense topics.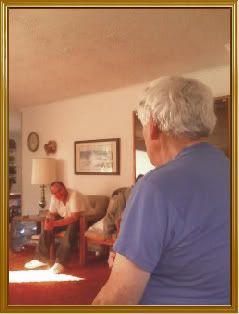 It's good to have family---for the good and the bad and all things in between. They can drive you insane but they're always there for you. Family. It's a good thing.