Anyone who has known me for any period of time knows that I have a disabled sister. Once a week she goes for therapy in the pool on the grounds where she lives. Cheri can't swim per se, but she does things in the water that she can't do on land or from her wheelchair. Since we moved back here to Seattle, I was able to visit her while she was having pool time.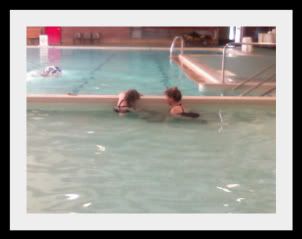 As I walked through the dressing rooms to get to the pool, my memory took me back in time to when my youngest was a baby. We spent a good deal of time there in that pool in a baby therapy class for disabled infants. Ash and I had such fun in that warm therapy pool week after week. We were there with other mothers who were all members of
Wonderland Developmental Center
, a birth to three organization that provided incredible support for us as we navigated through the shock and pain of Ashley's diagnosis.
It was and is an amazing organization and in another odd coincidence, Wonderland is now located in the school where I'll begin teaching on Monday.
But I digress.
The little baby girl that I held in my arms in the therapy pool that my sister now uses, has grown into an incredibly bright soon-to-be-ten-year-old who loves to play with her Papa.
My father, one of the most dedicated dads ever, goes to watch his daughter in her therapy swim sessions every week. He grows flowers in his yard just for her. He's been through a lot and just keeps on.....keeping on. I think he's getting a kick out of having my kids here in his house right now. Here they are on the bench at the pool having some fun while Cheri swims. As a grandpa, he's a great tickler.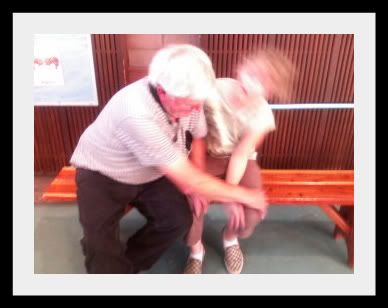 And she loves it right back.