Awww.....this gift made me laugh. I'm sure everyone knows the importance of green M&M's, right?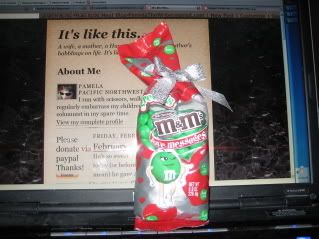 I'll be spending the day working--trying to catch up. I got behind with my work by having the tummy flu this week. Steph and Chris are both working most of the day today so Lance and the girls are on their own this gray overcast Saturday. I'll be holed up in our room typing out Internet Marketing articles and eBooks.
I did land another great big client yesterday, which is nice.
..and I thought I was swamped before....