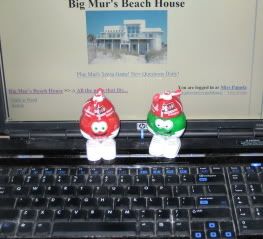 Two lil M&M dudes left on my laptop this morning.
I made four pizzas today. The dough raised well, and then I made two Garlic ranch with sweet onions, zucchini and mushrooms, one stuffed crust cheese and one with the BBQ sauce and rib meat from the dinner I made the other day. Yummeriffic.
Oh, and I did our taxes.
And now, back to work. I have major deadlines. ::slaps forehead in high dramatic fashion:::