There was a 2 hour school delay for the kids due to the ice on the roads but since I was up before six anyway, I just stayed up and worked at the kitchen table while it was still quiet.
Around 11 or so I hit a wall and had to crash. I fell asleep for about an hour on the living room couch and when I woke up, this was on my laptop waiting for me.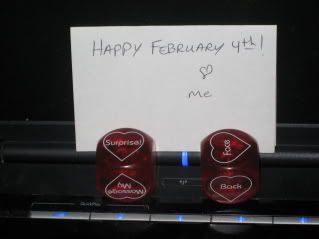 These are dice. One dice has things on it like 'kiss my' and 'tickle my' and the other one says 'my face' 'my legs' and my favorite, 'SURPRISE!'
I laughed and went in search of him. He was upstairs with three blankets over him and a pillow over his head. Asleep.
Aren't we an exciting old married couple? LOL