He's so sweet. Before he left for work today (or before I drove him to work I mean) he gave Ashley Rose something to give to me. She was grinning and holding it behind her back.
A little bear holding a heart that says 'smooch', inside a gorgeous red mug with the word 'love' inscribed on it.
He makes me smile....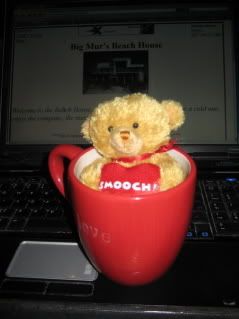 Poor girls were home today with the tummy flu that I've been fighting for two days. Steph got it first, then me, now the girls. I hope Lance doesn't get it too. It's not pretty...