I've been so busy I haven't had time to put up the last and final gift for Valentine's Day.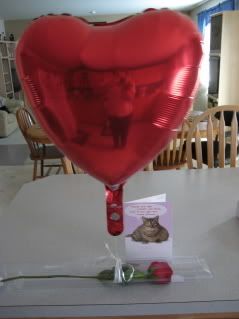 If you look closely you can see Lance in the reflection on the balloon as he was taking the picture. A red heart balloon and a single red rose and a beautiful card. But that wasn't all. After the kids left he kidnapped me and we took a ferry boat in Puget sound to a remote island where he'd arranged to have a magnificent brunch served to us. Fresh salmon and asparagus, chocolate puddings, tarts, fresh fruits, creme brule' and then there was a three string orchestral group playing off to the side that really set the mood. We were looking out the window of this rustic place, right on the beach, watching the ferries going back and forth, as we held hands across the table and talked about things.
I think I had too much sparkling cider and warm food because I was feeling so drowsy.....that I fell asleep.
When I woke up I realized that the balloon, the flower and the card had all been real--but the rest had been a dream I was having. We'd both been so exhausted from staying up until 2a.m. to work and then I'd had to get up at 6 to take Chris to Seminary that I fell back into bed next to my gently snoring husband and I dreamed of a ferry boat right and salmon and the peaceful sound of water lapping the shores...
Ah yes... someday the dream will come true.
In the meantime, here is Ashley perusing the Valentine's Day haul on the counter. She's still wrapped in her blankie.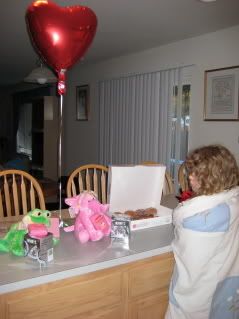 Another view looking towards the kitchen.