This is my 12 year old Allison and the flowers her 'boyfriend' gave her today at school. Apparently it's their four month anniversary.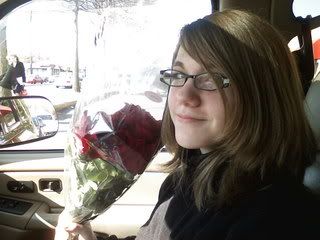 He didn't actually hand them to her---he gave them to his friend to give them to her.(How Middle School is that?) This is the text message conversation that my husband and I had after I sent him that photo.
Lance: "FROM JARYD??"
Me: "Ayup"
Lance: "GET MY GUN!!"
Me: "Ayup"
Lance: "I'm happy for her but scared for us"
Me: "Ayup"