I'm not sure what 'it' is, though.
Today I skipped walking the lake and took hubby and the doggie to walk along the river on the levee. Once again, Cassie didn't want to get into the suburban because she knew if she did, I'd take her somewhere and make her walk a lot.
She finally decided to cooperate and climb up.
Here she is at the beginning of our walk. Notice that she looks somewhat happy.
This didn't last long. The sun was shining and although it wasn't really hot out, it seemed that way to her because she's black. Oh, and just a wee bit chubby.
We walked and we walked and finally found a place to get down to the river so she could drink. Except I knew she wouldn't. You see, the water is....well, wet. And this particular water is
moving
, which is infinitely more frightening than water that is in her water dish at home.
Did I mention that this particular dog is afraid of water? Especially if the water is moving at all. We've taken her to the beach and watched as she had a panic attack each time a wave hit the shore--even though she was nowhere near the water.
So, down the river we went.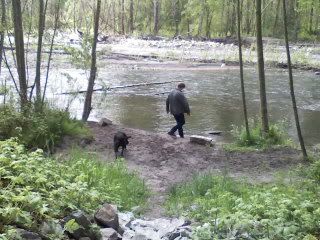 And she collapsed. The only thing on her that was holding her up was her tongue.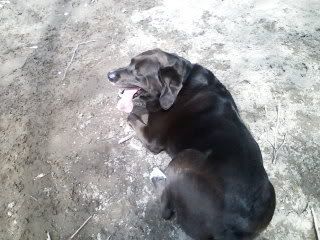 We tried to rouse her and get her to the river so she'd drink. No joy. So my husband, the man with the biggest heart on the planet, cupped his hands together and filled them with river water, then walked to where she was and verily the canine did drink. A lot. Lance went back to the river several times, cupping and trapping more water and taking it back to the panting pooch.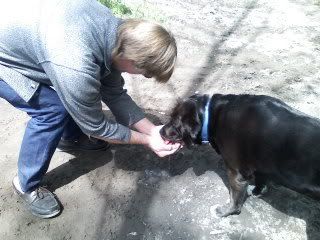 More and more water....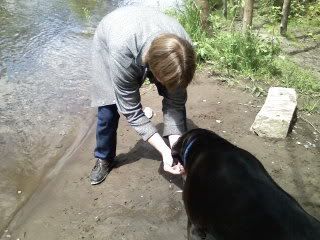 After she'd been sufficiently hydrated she was able to slowly finish up our walk and make her way back to the suburban.
I think I'll take her to see a waterfall tomorrow.