We went to a different river for a walk this morning. I bet when you go walking you don't see signs like this: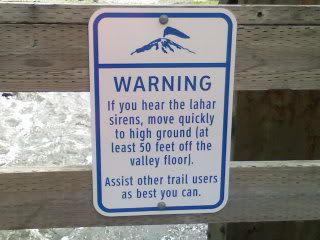 This means that if Mt. Rainier is about to blow her top, we should seek high ground. We have volcano evacuation route signs all around our town as well. You know, just in case. Like there would be time to get out, considering the traffic situation around here. It's not pretty. On days when the mountain
isn't
blowing up you can't get anywhere in a reasonable amount of time. But I digress...
Here's Cassie in the back of the suburban as we got gas. She's not pleased. Did I mention she's not a good traveler? No, she's not. I swear she coats the entire back of the vehicle in her slobber. I call this Fear Slobber. It's everywhere.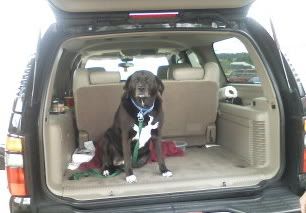 So we walked along the Carbon River. What does Cassie do right off the bat? Oh yeah. She squatted right in the middle of the path. She couldn't go over to the grass? Nooooooo. And just to show you that we are
good
pet owners, I snapped these photos. So if you see any doggie doo down there, don't blame us. Nope. Not us.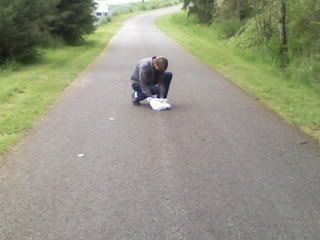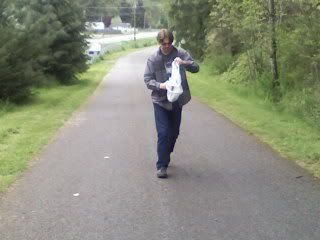 And lest you think I was lying about the river, here is a man and his dog. It's a beautiful thing.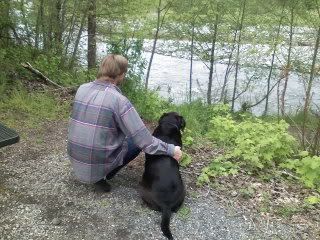 This from the bridge...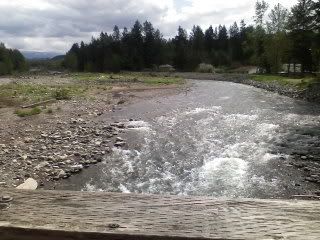 Then we (I) limped on back to our vehicle. My knees do not like me right now, but I'm not listening to them. They're going to have to suck it up and work like they're supposed to work.
I hate getting old(er).