Sure it won't!
I'm black and blue after my youngest had an in-office medical procedure today. (Yes, I know it's all about me) You can't see this in the pictures, but her daddy was there as well, attempting to hold her legs down, while I was in charge of her upper body. You know, the dangerous part.
Here she is getting her blood pressure taken before the procedure. Don't let that smile fool you. This girl is about to have her head swivel around and is about to spew green pea soup from her mouth, not to mention claw me, beat me, hit me and pinch me in places best left unpinched.
After going ten rounds, the procedure on her toe was finished. Dr. Whitemarsh attempted to clean off all the blood lest she catch sight of it and go off like a bottle rocket again.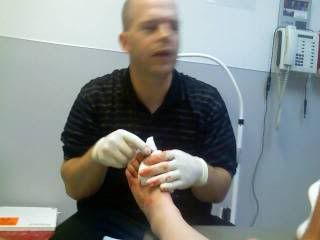 Here is the exhausted angel. If you look closely, I'm quite certain you'll see horns holding up her halo.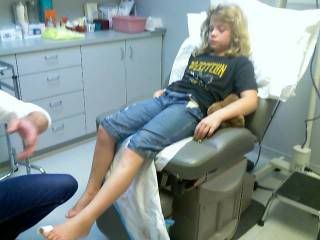 Now if you'll excuse me, I need to go put ice packs on my wounds.