The weather has been warm. Unseasonably warm. Ok, maybe
not
unseasonably, perhaps seasonably and that's another reason I dislike summer. I don't hate summer, I just don't like the high temperatures.
And before all you people living in a land where the sun never sets and the liquid in your eyes dries up on a regular basis, yes I realize the temperatures here are
not
really that high.
Just indulge me here, wouldja?
Since we moved to Seattle, I have lost my Ice Cave. This was our bedroom with a window ac unit that I usually cranked up to 'see your breath' levels on a regular basis. Therefore, I am warm. Hot. Horribly and uncomfortably blazing hot.
So today I decided to throw caution, and good fashion sense, to the wind and wear my bathing suit in public. With people around. And small children. There was a lake involved, with a floating dock with diving boards and life guards. I have pictures.
Don't cover your eyes. Stop that. They're
not
pictures of me. I may be unseasonably warm, but I'm entirely indifferent to your eyesight. I have pictures of some of my children. Hubby and I took our three girls and two of my sister's girls to Lake Washington, Matthew's Beach to be exact and there we got wet.
In this picture you can see Allison walking towards the camera in her brown tankini. So cute. You can also see the floating dock.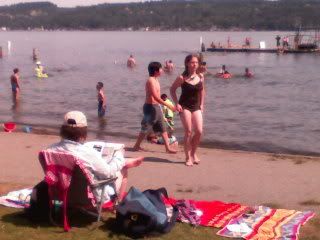 I swam out to that dock, climbed up and then sunned myself on the deck. This is something I've not done since highschool. I'm sure that some people there were amazed that someone like me would dare subject them to....the sight of me. In my defense I was hot. And just get over it already.
Here's a picture of my niece Jessica and my oldest daughter Stephanie.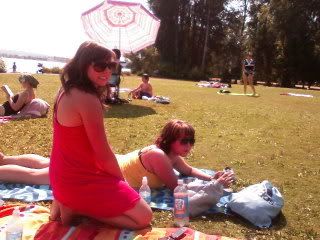 Because the weather is going to remain warm I may be indulging in this kind of public behavior again in the near future. Consider yourself warned.
Here's what happens to our beach towels when we get home. See? We are responsible people, even if I'm a bit reckless by subjecting the unsuspecting public to the sight of me in a swimsuit.