Every August we spend time getting pricked and poked, fighting off bees and spiders in order to take advantage of the juicy blackberries that abound here in the Pacific Northwest. Today my husband and I (alone!) went picking at
Discovery Park
up on Magnolia in Seattle. We used to pick berries there when our first two kids were little and even before that when we were dating.
If memory serves, the berries were big and plentiful back then. Today, they seemed a bit sparse and much smaller.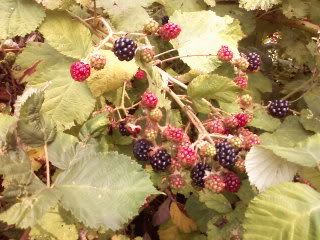 The weather, thank heavens, is much cooler than it usually is in August so the picking wasn't as hot and sweaty work as it was last year when we picked them along the Orting River. THOSE were some enormous berries, probably due to their close proximity to the water.
Here's a gratuitious shot of hubby picking this morning. Isn't he cute?
Later tonight I'll bake those berries into a pie and serve it warm and gooey with some vanilla ice cream on the side. If he's lucky there might still be some left when he gets home.