Ahhhh. The pool was lovely this morning and my favorite teacher was there to work us into a sweat. I've missed her. My house is clean
(((GASP!))
, ok the downstairs is clean. The rest? Not so much. I will be getting to that shortly. In the meantime, here are some pictures for you to ponder.
Here is Bobo (aka Uncle Daddy) with his son/nephew, Twitchy. They used to pee on the couches whenever I put the slipcovers on. For some reason they've given it a pass this time. I don't know why, but I'm not looking a gift horse in the mouth. Or rather, a non-peeing cat in the .....uh....in the whatever.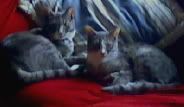 On the other end of the couch from them are their nephews/cousins/half brothers. It's complicated.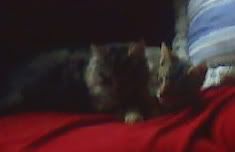 On the
other
couch across from them in the family room, is our dog Cassie. Oooh, it's a dogs life, lemme tell ya.
You may wonder why there is no picture of our other cat, She Who Procreates. Well, I'm taking her into the vet at 2:40 this afternoon, barring unforseen episodes of fright. This is the first step in the process of making her She Who Cannot EVER Reproduce Again. Wish me luck. The last time we tried to do this my husband chipped his tooth.