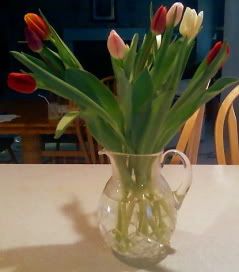 Today I had a gorgeous guy in my arms for most of the day.He wasn't my husband, but that was ok, hubby knew I was having company today.
We cuddled and we giggled and I didn't want to let him go when his mommy came to pick him up. I love that little guy so much.
To thank me, she brought me some beautiful tulips. I love fresh flowers! She didn't really have to do that, I should have given her something beautiful for the gift of sharing her little boy with me again.
My arms are empty once again.....