Hubby had a long talk with his boss last night and it was strongly suggested that he take this promotion. If he doesn't he won't get another chance at it---and it's something he
really
wants to do. Plus, it will be easier on his spine, which is a biggie as he's had so much trouble with his back lately.
Add that to the fact that Ally is thrilled beyond measure that she'll be able to go to Middle School with her cousin Nicole. They've been burning up the phone wires discussing classes and fashion and people, not necessarily in that order.
Apparently everyone wants to move except me.
But I will. I will put on the Mother of all Garage Sales, sell off nearly everything we own, put my beautiful new home up for rent and move back home into the house I grew up in. Actually, we'll be splitting our time between there and my sister's travel trailer in order to get the kids into the school district they want to be in.
Yes, we'll finally have reached that pinnacle of success that we scarcely dared dream of: Trailer Trash.
Don't be jealous. We know this is a lofty and out-of-reach goal for most of you. Don't give up on your dream.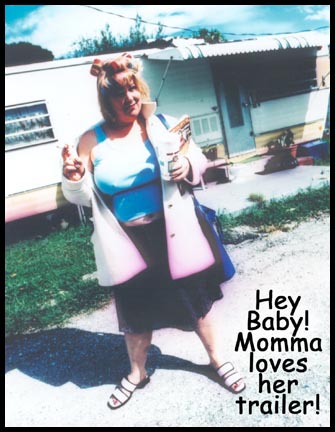 Ayup. Live the dream baby. Live the dream.