Today we got some boxes and are beginning The Big Packup in preparation for moving back to Seattle.
This means we have to go through things we own. Things we've collected. Things we don't really need.
Like movies. Lots and lots of movies. See?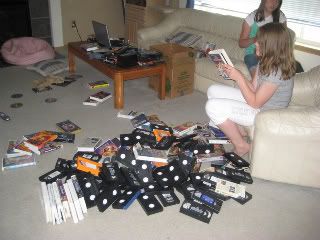 We don't need these movies. Most of them are Disney that the kids watched growing up. Really, who needs this many movies? And this doesn't show you all the DVDs that are in the box there. So most are going to the Mother of All Garage Sales, the rest will go to charity if they're not sold.
Those leather couches? I'm giving them to my brother. If you've seen them, I know what you're thinking. You're thinking I hate my brother. Why else would I give him that ratty couch, chair and love seat?
I don't hate him. He wants'em, he can have'em. I told him how they are and he doesn't care. Sooooo, now I need to stop wasting time here and get back to sorting movies.
Wish me luck.