Today we loaded up the car, the wrecked one, onto a trailer and hauled it down to Vancouver, WA. It's going to be repaired by my, well, by someone in the family.
After we left there we drove to Cannon Beach, Oregon.
I LOVE Cannon Beach. I want to live there. I know that won't happen but a girl can dream, right?
The weather was gorgeous, albeit a bit windy. Ashley and Ally waded through a small river and up a sand bar to get to the ocean and then they went swimming in it. Well, sort of swimming. Hubby and I stood by, up to our knees in the frigid water. Eventually everything became numb and didn't hurt so bad. Meanwhile....they frolicked. See?
They were frozen by the time it was over.
We brought along a little barbecue and made some burgers on the beach. It was wonderful..
And now a few words about my baby daddy...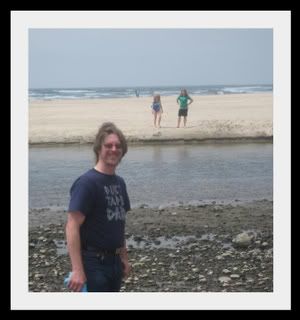 He's the best daddy in the world. His children are so loved by him and he serves them. He has the biggest heart, the kindest way with them and a gentle soul. He's the best thing that has ever happened to me and through him have come incredible blessings.
I love you sweetheart.