Rain, rain and more rain. Not that I'm complaining. Ok, I'm complaining. It's not the rain per se, it's the humidity. I feel like I'm breathing in water. The air has weight and it sits on you. Surfaces in my house are actually damp with it. Me no like.
This morning we found out that they do a free lunch program thing in town, so we took the girls there for the lunch. Here's Lance with Allison, Nicole and Ashley holding the umbrella.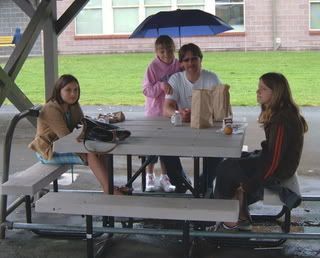 Then we went to a beautiful park and took a long walk. When I say long, I mean long. Lengthy. Long in length. Unbearably long in the humidity. It wasn't raining but it sure felt like I'd walked through a warm wet drizzle. The girls had a great time running ahead and laughing. I know where all my energy went. They sucked it out of me. Ok, that and the cheetos, but that's a story for another time. We walked a couple of miles. Here are the girls in front of tree that toppled in our last great windstorm.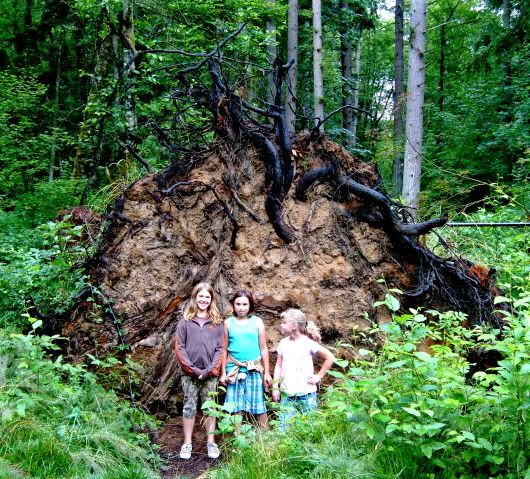 More walking in the forest, more greenery and some animals. Ponds with water lilies dot the park and there is a large play and picnic area on one end. We might have reached it had we turned left instead of right. Turning right led us further on. MUCH further on. Sweat, pant, sweat some more.
Here are the girls by some greenery.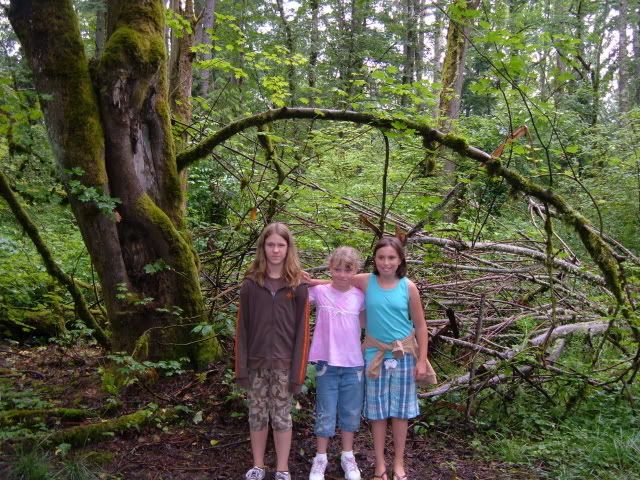 Then we took the girls for an ice cream cone to make up for all the healthy walking they did. It all evens out, right? Now Lance is getting ready to go to work and the girls are pretending they run a hotel. So far they've brought me a plate of cut up fruit and some nachos. I took the fruit and declined the nachos.
I almost forgot something. This morning when we got up, Allison had gotten up before us. She'd made pancakes and blueberry muffins. She set the table beautifully and then we feasted. Allison is a treasure....an absolute treasure. We are so blessed.
And now I have some writers to edit and some writing to do. Happy Monday!