Hubby and I decided to spend yesterday down at Pacific Beach and Ocean Shores with the two younger girls. The Boy and The Girl have spread their wings and were spending the day up in Seattle with their friends. (Did I mention that The Boy got his drivers license this week? Yes, we're still reeling)
We slept in...and took our time. No rush. Lovely day. The beach we chose is one that is less crowded. It was a little breezy, but not overly windy. I found this sand sculpture created by the wind (I apologize in advance, all pictures were taken by cell phone camera. I did bring the camera, I'd just forgotten to put the memory chip in it
before
packing it. Yes, I'm quite blonde, thanks for asking)
A heart, carved by the wind. It was much more spectacular than this bad pictures shows.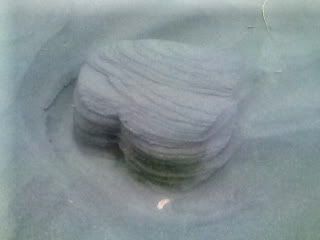 Here's Allison looking beautiful.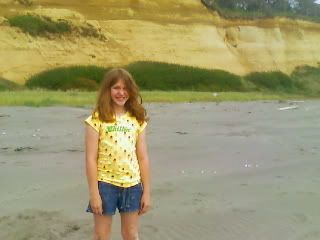 A large piece of driftwood was on the beach, and here's Ashley mugging for the camera for me. You can see off in the background our suburban, with the tent up next to it. We even collected driftwood for a fire, but never got to starting it.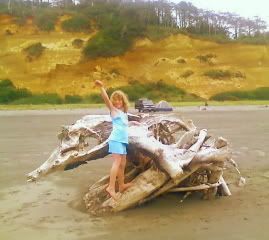 Here's Ashley splashing a bit in the water. She had a wonderful time.
One last picture. I promise not to overload you with all the awful cell phone pics I took yesterday. After we left the sand, we went into town to a go cart/ice cream parlour/bumper car place, designed to suck all the money from a family's wallet. This is where I got squished by a car. More about that later.
Here are the girls with their ice cream cones, Ally got two scoops of cotton candy and Ashley got rootbeer float and cookies and cream. Don't they look happy?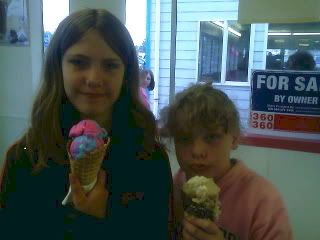 Now, to the squishage that I experienced.
We were parked at the go cart place. It's angle in parking, right off the road. Lance was sitting in the driver's seat and the girls were getting their shoes on. I was standing, talking to Lance, outside the suburban. On the driver's side, with the door open, leaning in to talk to him. Suddenly I'm feeling something is not quite right, and it's getting worse. The car next to us, a lovely new black Land Rover, had begun backing out, striking our driver's door, slowly squishing the life out of me as it pressed me into the side of our suburban.
I'm told I squealed, then sort of squeeked out an
AHHHHHHHHHH!
The driver of the Land Rover either felt the resistance of his car hitting something or heard me yelp. Either way, he stopped and pulled forward, then ran around the back of his vehicle yelling, "Did I hit you? Did I hit you?" I was leaning face first on the backseat door of our suburban, in pain.
I had been the victim of squishage.
Nothing is broken, but my left leg, left shoulder and my back are not feeling so well right now. Oh, and there is a not-so-lovely crease in our driver's side door.
Other than that, it was a lovely day..