Ally stayed home from school today. Just when I got over the crud, she appears to have come down with it, poor thing. She was coughing most of the night. I know this because she and Ashley slept on a mattress on the floor by my side of the bed. Her voice is nearly gone. I drove Ash to school this morning because neither one of us was moving too quickly and we missed the bus. She was fine with that because she'd prefer I drive her every day! Then I went for a little drive all by myself. I could do this because my nephews, Cameron and Cody are here spending a few days with us. It was nice. I turned on the CD player, listened to music and reveled in my solitude. I don't get much time alone and sometimes I simply crave it.
I went to Fred Myer's to pick up some juice and medicine for Allison. Unfortunately I forgot to bring my glasses with me. I couldn't really read the medicine boxes but bought one that said Dimeatapp cough and cold. I thought the box was a little small, but chalked it up to the fact that it was probably tablets or concentrated. I'd actually purchased INFANT medicine that came with an eye dropper. ::sigh:: Sometimes I amaze myself at my stupidity. I gave her the whole bottle, as it wasn't much. She's been napping now.
The kittens are growing at such a fast rate! They won't be a week old until tomorrow but they're already getting pudgy. Here's a picture of Uncle Daddy, keeping vigil outside our closet door just waiting for a chance to go in and see his babies.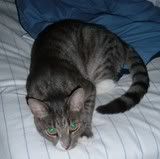 Here's one of the babies. The white one doesn't appear to be as white as first thought. It's more of a buff color and it's ears appear to be gray. Looks like there is some Siamese in the mix with that one.