Another day....another morning. We've had difficulty getting Ashley to wear her leg brace. You understand that it's not easy being a nine year old girl and being 'different' in a world that isn't very accepting of differences---despite all it's protestations to the contrary--different is still not as cool as being like everyone else. Having CP will always set her aside in some manner.
This morning Lance put on her brace, after bandaging part of her foot where it had rubbed some skin off and created a blister. We kept it off her for a few days so it could heal.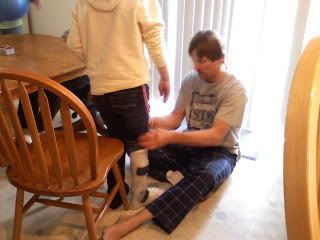 Poor thing has had bronchitis for awhile. Doc has her on two medications and we have the nebulizer. She went to school for a half a day today. I'm sure she'll come home and sleep.
I leaned across the counter this morning as she was eating her cereal and milk and I just stared at her. She's incredibly beautiful..those big blue eyes, those blond curly locks. I could spend all day just memorizing everything about her but she thinks her mommy is weird when she does that.
She doesn't realize that if I blink....it will be over. I won't have her to cuddle in the morning or have her crawl into bed with me at night. She won't be asking me to do her ponytail anymore or to tie her shoes.
I'm missing it already and it's not even happened yet.....
So beautiful...