Yesterday was my day for IVs and sedation and pain. Today was hubby's turn.
He was diagnosed with spinal stenosis and the treatment they are trying is injections of steroids into the epidural space of the spinal column. Doesn't that sound like fun? No, didn't sound like fun to him either.
Today was the day. Here he is in his cute little hospital gown.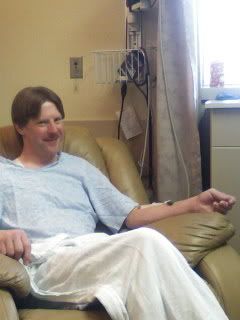 He was knocked out for the procedure, lucky guy. He feels ok but doesn't feel any measurable difference in his level of pain yet. He goes back to have it done again in two weeks.
The nice part? He's home again tonight. I love that. I hate having him gone in the evening at work. Hopefully he can get back on days soon.
In the meantime, pass the vicodin!