How to make Pumpkin Seeds, Ghostly Treats and much, much More!
From the mind of a Nationally Published Humor Columnist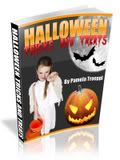 I've created a one-of-a-kind Halloween eBook with over 30 pages of hauntingly good content for this Halloween season! You want to know how to make pumpkin seeds? It's here! Want to spice up your Halloween party, for kids OR Adults? It's here! From Pumpkin seed recipes to how to create your own haunted house, this book covers it all!
» Spooky Treats You Can Make At Home
» Creating Your Own Haunted House
» Disguises & Costumes
» Halloween Fun And Games
All 30 pages with graphics for only
$27 $20!
It's a bargain, so make your payment today and you will receive an email sending you to the website download page to receive this fantastic collection of Halloween Treats!



I'm only selling a LIMITED number of these eBooks, so hurry and get yours now!!


Happy Halloween!!!