It's back to school time once again. Tonight was the Back to School Barbecue at the elementary school. Mmm....nothing says the end of summer like burnt hot dogs and lukewarm lemonade! Yum!
My girls brought their backpacks and their school stuff. We met their teachers and I like both of them, as do the girls. One mother told me the summer is too short, when I was thinking it was too long. Another said it was just fine. It's funny how opinions differ from one family to another. I only think the summer is too long because I'm not a fan of the high temperatures we sometimes
suffer
have here.
Here are my beautiful girls, waiting to see their teachers.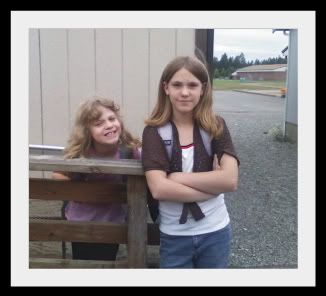 Tomorrow is the first day for Chris as a junior in high school, Ally as a sixth grader and Ashley as a third grader. Ash is in a 3rd/4th classroom split, so she'll be getting some extras, which is great.
And The Girl heads to college at the end of the week. Listen and you'll probably hear my tears falling around that time.....