Twenty years ago today I married my best friend. The man with the kindest most gentle heart. Today we celebrate twenty years of love and struggle and growth and laughter.
Twenty years ago these two young kids had no clue what was about to happen to them.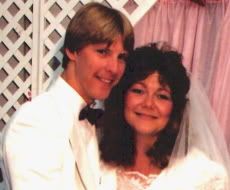 Someone should have warned us! Now we have teenagers, and mortgages, and car payments and teenagers, and pets and piano lessons and teenagers. Did I mention teenagers? No one stepped up to tell us all these things. Well, one person did tell Lance not to marry me. No, make that two people. I suppose they were trying to help, but since then both of the naysayers have been divorced and we're still going strong.
We have been blessed.
Did I mention teenagers?