Lance and I took the girls to
the Pierce County Fair today. The Boy slept in and didn't want to go and The Girl is still up in Seattle, so it was just the four of us. Horses, and doggies and kitties and cows and crafts and carnival rides. Lance and Ally took the rock'o'plane ride together.
They had fun, even if the ride wasn't Allison's favorite experience there.
Here's Ally and Ash with a cow and her calf. Ashley was a bit nervous getting that close to something that wasn't formed into a Big Mac yet. Yee haw!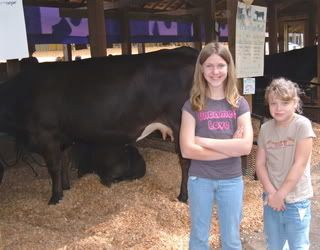 Games were played and stuffed animals were won. Before this picture was taken, only Allison had won a stuffed animal. Ashley desperately wanted one, but the game required two hands to play and she simply couldn't manage it. Ally said she would play the game again to win her sister a big stuffed animal. Then she leaned into me and said quietly, "And if I don't win, Mom, I'll just give her mine"
My sweet, preciou and giving 11 year old daughter touched my heart.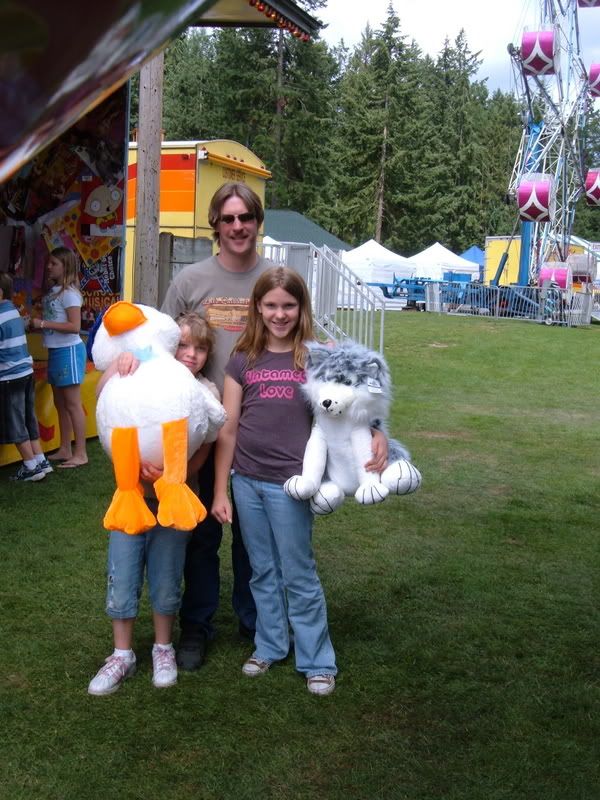 I have more pictures but I've decided to relent and not bore you to tears any longer. Did I mention that scones were consumed? Oh yes. Warm, gooey with raspberry jam and delicious. It was a delightful day.