After our wonderful day at the park yesterday, we went to pick up Stephanie after her first day on the job at
See's Candies
. Naturally, we went into the shop to bother her and pretend to be customers. I was complaining about how slow she was when one of her co-workers came to her rescue, giving me a look. I started laughing and explained I was her mother. Then of course I had to snap some pictures of her in her snazzy uniform.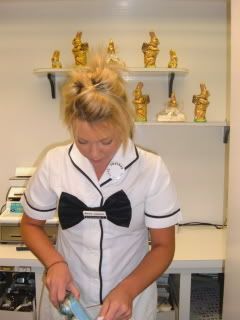 I can see we're going to have problems with her working there. HUGE problems. Me + chocolate = OH MY GOODNESS!! I found a brand new favorite and it's called Key Lime Truffles. It's like heaven in your mouth. Sooooooo yummy. So did we buy some candy? You bet we did. I see a pattern developing here. After Stephanie rang me up, I spoke to her manager.
Me: I'd like to complain about the service here. (she didn't yet know I was her mom)
Manager: what's the problem?
Me: (holding up the bag I'd just purchased) She made me
pay
for this stuff!
Manager: (confused look on her face) Uh....
Meanwhile Steph is laughing and so am I. I explained my genetic link to her newest employee and she laughed as well. She's the one on the right.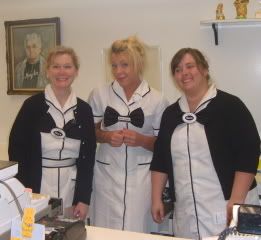 Now I just need to know if Steph gets an employee discount....